Let the Professionals Handle Mold Damage Remediation at Your Wantagh Business
7/16/2019 (Permalink)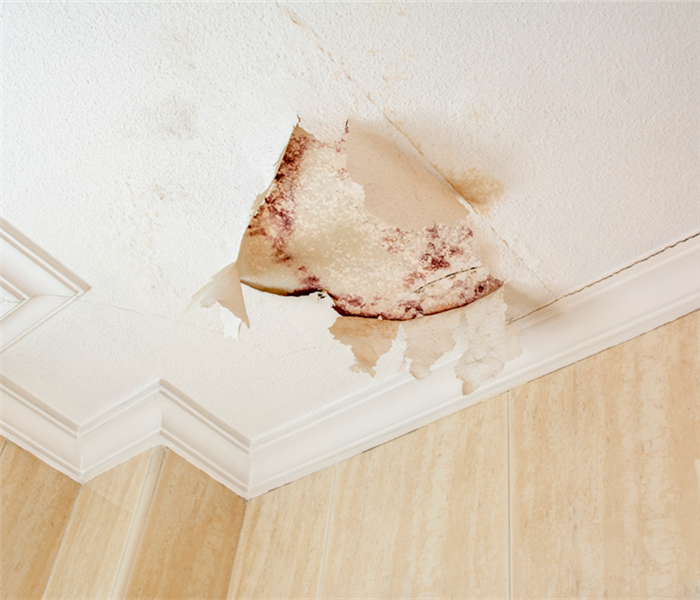 Mold damage to your business can cause chaos to deal with properly. Contact the professionals at SERVPRO today for remediation assistance.
Show Mold Damage the Door at Your Wantagh Gym
Working out is a passion for your clients in Wantagh, and you strive to have a clean and well-appointed facility available for them. You have high expectations for your cleaning staff, and they work hard, use products they believe are effective, and are reliable. Despite your commitment to providing a sanitary space for gym members, you notice musty smells and visible mold growth. The strategies you and your staff tried are not working. We can help.
Mold damage in your Wantagh fitness center persists despite vigorous cleaning because moisture is available to fuel their growth. Mold spores are present in all spaces inside and out, but until they absorb water, no excessive growth occurs.
Unfortunately, some of the methods your cleaning staff uses when trying to get rid of mold might add water. Diluted bleach solutions are often a go-to for disinfection and microbial control, but they often merely lighten surface stains without penetrating deeply enough to kill all the branching filaments of hyphae making up the entire mold organism. SERVPRO's Institute of Inspection, Cleaning and Restoration Certification (IICRC)-trained technicians use industry best practices to remediate your current mold infestations.
SERVPRO mold remediation crews use protocols developed by the Environmental Protection Agency (EPA) to remove active colonies appropriately and take steps to minimize microbial growth in the future. We contain the mold-infested area using heavy plastic sheeting and setting up a sealed workspace with negative pressure air scrubbing equipment. The scrubber filters and exhausts air from the work area to the outside.
Wearing personal protective equipment (PPE), our technicians mechanically remove mold colonies, scraping and brushing solid surfaces. To access mold deeply embedded in porous materials, including tile grout, we employ soda blasting, which penetrates deeper and incapacities the mold organism while removing moldy debris.
The remediation crew bags the colonies and vacuumed up residues for legally compliant disposal. SERVPRO employees apply EPA-registered antimicrobials and consult with you and your staff concerning the sources of excess moisture you must control to prevent a rebound of mold growth.
SERVPRO of Bellmore / Wantagh has highly-qualified mold remediators to help you when conventional cleaning techniques fail to manage microbial overgrowth/ Contact us at (516) 809-9600 for an assessment and implementation of an abatement plan.
Click here to see more about Wantagh.