Our Experts Arrive Right Away To Restore Your Seaford Home After A Flood
11/7/2019 (Permalink)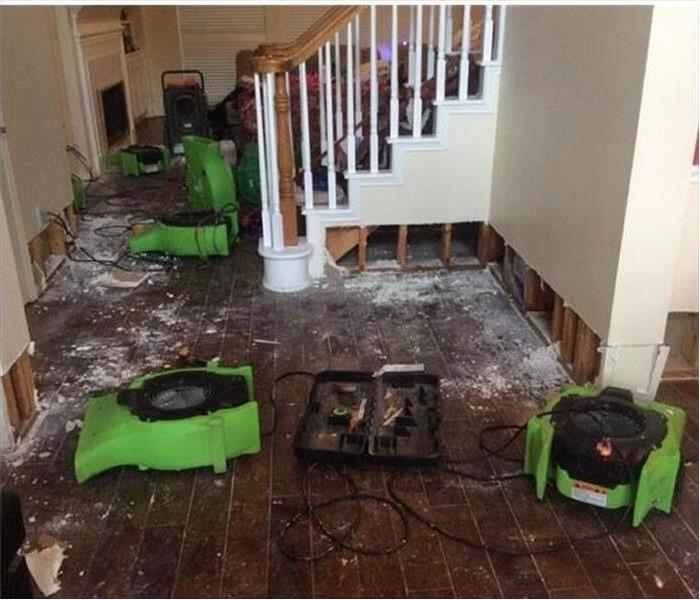 The stormwater soaked into the drywall of this home causing extensive damage. Our technicians created a "flood-cut".
Why Initial 48 Hours is Vital for Flood Recovery in Seaford Homes
You might often hear that the first 48 hours after a flood loss incident is the most vital period for restoration and recovery of your Seaford home. Part of the reason that our SERVPRO team commits that We're Faster To Any Size Disaster is that we also believe that these initial two days are the most important to adequately protect our customer's property and reduce the ultimate costs of restoration. From overcoming standing water to drying out saturated materials, we must work quickly to protect your house.
Knowing what makes this period so critical can help motivate you to secure professional restoration and recovery services for flood damage in your Seaford home immediately. Just saying that we are fastest to disasters proves nothing, but knowing the steps we take to mobilize our team quickly when you need us most can show you how committed the entire brand is to inspiring loyal customers for life. We have ready trailers and production trucks stocked with drying and extraction equipment from air movers to wet-vacs and light wands to help.
The spread of bacteria is one of the most significant concerns with natural flood damage in your home in the first 24 hours after exposure. With prompt response to your house after a disaster, our structural drying technicians can begin removing moisture and dampness to allow for cleaning agents and germicides to get applied to surfaces, structural elements, and any fixed features of the house that do not require removal and reinstallation.
The migration of standing water can lead to the saturation and deterioration of drywall, baseboards, and carpeting. The faster that our SERVPRO team can get notified of a flood disaster in your home, the more efficiently extraction devices like our portable sump pumps and trash pumps can get deployed in the house. In areas where direct exposure has not occurred and started the degradation of the construction materials present, we can often utilize air movers and dehumidifiers to protect the structure and reduce the spread of dampness and moisture.
Flood losses can get more challenging to restore and recover after the first 48 hours. Let our SERVPRO of Bellmore / Wantagh team help you make it "Like it never even happened." by calling (516) 809-9600.
See more about Seaford.