What Happens When Pipe Bursts in Your Seaford Home
7/6/2022 (Permalink)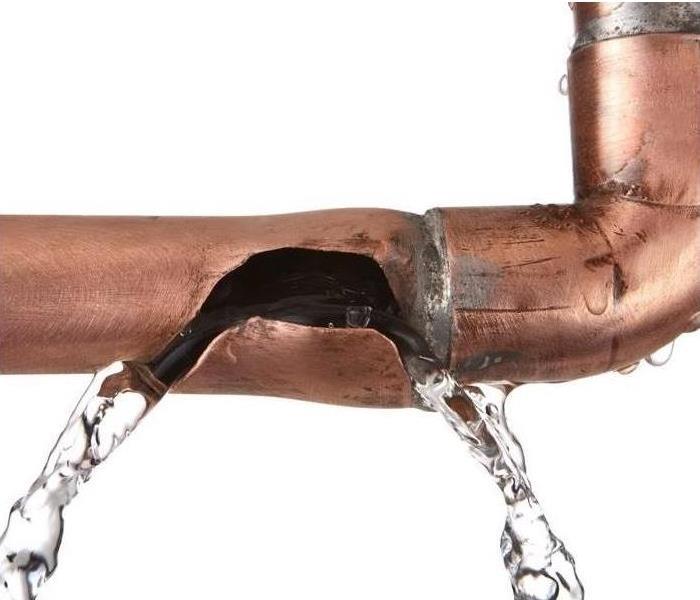 This pipe break may look small, but it can push out a lot of water in a short time- especially if it not discovered until later.
Fast Reaction Helps Keep Water Damage In Seaford Manageable
You must react fast when a pipe bursts and fills your Seaford home with water. Even though such water may be clean and contains no debris or contamination, it can still cause considerable damage if left standing over an extended period. Common problems include rotting, swelling, or buckling if the wood is in the affected area. Mold can also develop on different materials, including fabrics, within 24 to 48 hours after the initial exposure.
When you realize you are facing water damage in Seaford, it is essential to determine to what extent the water affects your property. A casual observation only reveals the damage on the surface, so it is possible to ignore some issues that would lead to significant problems in the future. Our SERVPRO crews can handle such advanced inspection correctly using tools such as thermal cameras and moisture meters which reveal how far the moisture penetrates below the surface.
The amount of water in the affected spaces determines the effort needed for removal. Remember, the longer water remains in the structure, the higher the chances of secondary damage. Depending on the results from the inspection, our SERVPRO technicians can respond accordingly. For instance, we can know the number of water extractors to remove the water fast enough. Depending on the level of moisture penetration into porous materials, the inspection also helps determine the number of air movers and dehumidifiers needed to dry the structure before mold develops.
Sometimes standing water might lead to delaminating of carpets or seeping under laminate floors. Little can be done to save the affected materials at such a point. However, the underlying baseboards, adjacent walls, and furniture need salvaging. Our SERVPRO technicians help by removing such materials and starting the drying procedures necessary to restore the other materials. Apart from disposing of the damaged materials, we also support the homeowner file a proper claim with the insurer.
Water can spill and damage your property at any time. To mount a proper response, call SERVPRO of Bellmore /Wantagh at (516) 809-9600. We are available 24/7.