We Have The Equipment And Training To Handle Your Levittown Flood Damage
8/4/2022 (Permalink)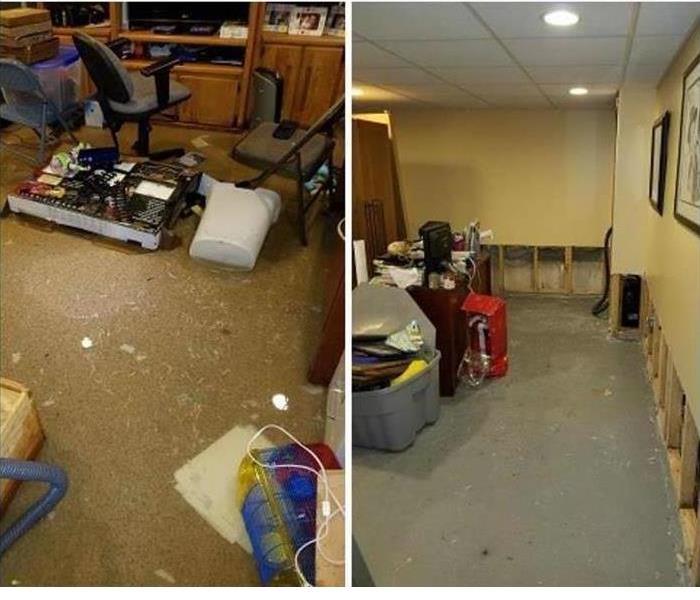 When this basement flooded we arrived right away and pumped the water out and dried the area out with our advanced equipment.
Cleanup and Restoration for Your Flooded Levittown Basement
Whether a place for storage or a finished livable space, many Levittown homes have basements used for something. While these spaces can have their functions and uses, they are also the first affected space when disasters like flooding occur. When an area of your foundation blockwork allows water penetration or floodwater pours in through some other vulnerable point, a high volume of potentially contaminated water can pool quickly along the floors of this lowest level.
While many things must occur immediately to alleviate the pressing flood damage in your Levittown home, this begins with reaching out to competent professionals. It might be tempting to try and clean up the mess and extract floodwater on your own. Still, there are many risks associated with natural flooding that could prove hazardous to unprotected homeowners or unlicensed cleaners. Our SERVPRO team has the full measure of personal protective equipment along with industry-leading tools to quickly remove excess water, clean up the affected materials, and restore the damage entirely.
Our team assesses the full scope of the flood damage from when we first arrived, identifying the affected materials and areas of the basement that require focused attention. Extraction can help reveal other exposed elements and materials and allow our advanced equipment like moisture detectors and thermal imagery to be more effective in locating lingering moisture pockets in concrete and blockwork.
If the concrete flooring in your unfinished basement has already begun to absorb the floodwater, we must first dry out the saturation with our drying mats before we can disinfect and clean this material. Exposed drywall must get removed as this porous material can retain bacteria and contaminants from the flood, persistently promoting mold growth and health effects. We utilize controlled demolition techniques only to remove materials necessary to keep your family safe and improve the efficiency and effectiveness of our restoration work.
Flooding can be alarming, but with our SERVPRO of Bellmore / Wantagh professionals, we can make these effects "Like it never even happened." Give us a call anytime disaster strikes at (516) 809-9600.