How Clogged Drains Can Cause Your Seaford Home to Flood
2/11/2022 (Permalink)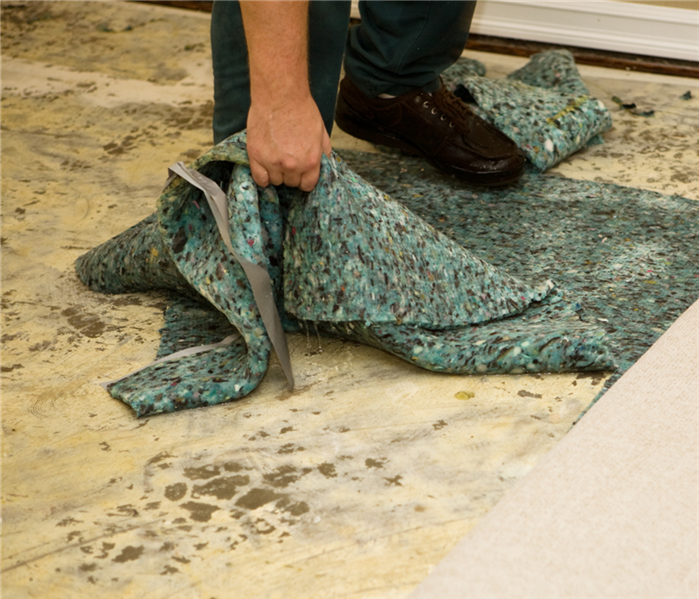 SERVPRO understands how serious water can damage the carpeting as well as other surfaces on your property, Call us for assistance with water removal.
Salt and Other Deicers Can Leave Your Home with Flood Damage in Seaford
Keeping the roads in Seaford clear of ice means salt trucks traveling through your neighborhood. Other deicers, such as sand, merely provide traction for vehicles without melting anything. Sand accumulates near drains and mingles with any debris already present.
When drains along the streets become clogged, homes in lower areas of Seaford can sustain flood damage from rapidly melting ice. This flooding contains high amounts of road salt, motor oils, and other contaminants. SERVPRO Franchise professionals know highly effective methods at removing the pollutants from your home, making everything "Like it never even happened." for you, quickly and efficiently.
Flood Damage Restoration
Small amounts of flooding can make your home unlivable for different reasons. The heavy soiling caused by flooding means carpets and padding almost immediately become ruined. Lower portions of walls that absorb water can swell and develop cracks along corners, letting water seep inside the interior space. Increased humidity means microbes can begin flourishing all over your home's interior.
Destroyed materials can retain both moisture that prolongs the drying time required, causing equipment to work harder, and pathogens that put anyone present at risk of various health effects. SERVPRO franchise professionals work in teams to mitigate the damage caused by flooding. Getting your house's interior free of waterlogged items like flooring and soggy drywall decreases the amount of moisture left after pumping out any standing water.
Drying your home's interior to reach normal moisture content levels includes removing trapped pockets of water which can happen behind cabinetry and built-in drawers. We drill holes to drain trapped water and allow the tubing to circulate air inside the area. We use air movers for this and dry out the rest of your home.
Our flood damage mitigation specialists ensure that all hard surfaces get a thorough wipe-down with antimicrobial cleansers. We want to make the interior space clean again for your family, so you do not need to worry about contamination.
SERVPRO of Bellmore / Wantagh understands that winter also means melting snow and ice, which can cause flood damage in certain areas. If you experience this, call our 24-hour services number, (516) 809-9600, so we can help restore your home to preloss condition.