Bellmore Is The Perfect Base For Fun On Long Island
1/4/2021 (Permalink)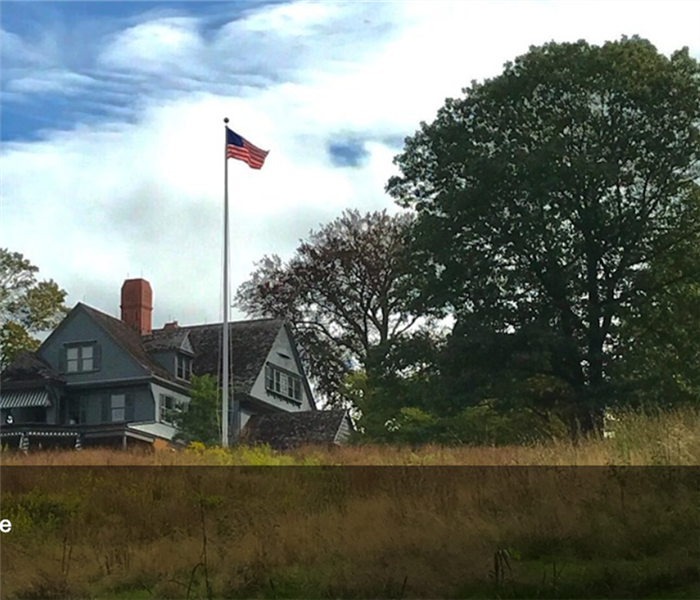 Let skilled technicians handle the fire damage to your business. SERVPRO is the team to restore your business and get you back up and running.
From Historic Sites To Family Fun, You Will Find It All Near Bellmore
Bellmore is a lovely little hamlet on Long Island that has a long history. As far back as 1643, Bellmore was already established as a farming and fishing town. Back then, it was known as "New Bridge" and "Little Neck." The majority of Bellmore settlers were Englishmen who had crossed Long Island Sound, including Preston Bowman, John Smith, and John Bedell.
In 1867 a railroad was built in the area, and the station was given the arbitrary name of Bellmore. Soon Little Neck and New Bridge were growing towards the railroad, and so both communities merged and adopted the name of Bellmore. The name became official in 1900, the same year the post office was established. By 1920 the hamlet had grown to a population of 3000 people, and there were several stores in the town.
These days the hamlet has a population of 16,218 and is a popular New York commuter town. It is also an ideal spot for visitors, providing a base for exploring Long Island and easy access to NYC. There are beaches and nature walks nearby, so whether you are looking for the bustle of city life or a relaxing break away from it all, you are sure to find something to love in Bellmore.
Meet The Local Fauna At Wildlife Attractions
Visiting families will love the range of wildlife attractions available near Bellmore, including:
Queens County Farm Museum, which sits on New York's last undisturbed tract of farmland. Visitors can meet livestock, visit the orchards and greenhouses, and even feed the goats.
Queens Zoo is home to a wide range of beautiful and fascinating creatures, including alligators, bison, lynx, sea lions, bears, and elk.
White Post Animal Farm is a petting zoo where you can meet and even touch parakeets, ponies, marmosets, and more.
Take A Step Back In Time At Historic Sites
The Bellmore area is home to many historic sites, including Sagamore Hill, which was home to Theodore Roosevelt, and the Vanderbilt museum and planetarium.
No visit to local historic sites would be complete without a trip to Coney Island. It is just over an hour from Bellmore but well worth taking a trip out to see.
Coney Island first started getting popular as a resort in the 1830s and 1840s. It was far enough away from Brooklyn to give residents the feeling that they had been on a proper vacation, and close enough to Manhattan to provide all the excitement of visiting the big city. The advent of carriage routes and steamships meant traveling from the Brooklyn area to Coney Island was much quicker than previously, and the area became an increasingly popular destination.
In 1868, William A. Engeman started building the Brighton Beach resort. With a luxury hotel and a bathing pavilion, the resort soon attracted middle and upper-middle-class visitors to the area. By the time of the Second World War, Coney Island boasted three amusement parks and was well established as a beloved destination for those seeking sea, sun, and fun. The area fell into some decline after the war but saw a resurgence in the late 20th century and remains a popular destination for visitors from far and wide.
If you visit Coney Island, be sure to stop by these historic fairground rides, which all have Landmark status:
The B & B Carousell (that is how its creator spelled the name, and it is still spelled that way today) is a traditional carousel. The carousel was built around 1906 and featured a traditional fairground organ.
The Coney Island Cyclone is a wooden roller coaster that opened in 1927. It is one of the oldest wooden roller coasters that is still operational today and the only operational wooden model in New York. It might be old, but it still provides plenty of thrills, including an 85 ft (26 m), 58-degree drop.
The Wonder Wheel is a steel Ferris wheel that opened in 1920. It can carry 144 riders and features both stationary and rocking cars.
Bellmore and Long Island Have Seen Their Share Of Fire
There have been several historic fires in the area. Some of these took place at Coney Island, and others in the Long Island Central Pine Barrens:
In 1995 there was a series of brush fires in the Pine Barrens. The fire closed the Sunrise Highway, burned 7000 acres of land, and threatened multiple homes and businesses. More than 400 people had to evacuate their families, and the fire wreaked havoc on the tourist economy, although thankfully, no lives were lost.
In 2012 a brush fire in the Pine Barrens burned 2000 acres and closed down the Long Island Expressway. It took 600 firefighters with 30 brush trucks, assisted by water drops from the New York Police, to contain the fire.
Coney Island has suffered multiple catastrophic fires. Steeplechase, Dreamland, and Luna Park amusement parks were destroyed or partially destroyed by fire in the early 20th century. These fires contributed to Coney Island's decline before its more recent revival.
SERVPRO Helps Local Businesses Handle Fire Damage
The Coney Island amusement park owners learned to their peril how quickly a fire could destroy a business. SERVPRO was not around to help in 1904, but these days we are on hand to support local businesses with reliable fire damage mitigation.
Our Emergency READY Plan (ERP) helps businesses plan for the worst. Download the free app, set up an account, and follow the on-screen instructions to set up your ERP. You will be able to enter essential information such as who to contact and what to do in an emergency, and you can establish SERVPRO as your go-to fire damage mitigation company. That means that you can get in touch with us quickly in an emergency, and we can respond swiftly.
We understand that time is of the essence after a disaster. Your ERP helps you get up and running quickly and helps cut down on the losses your business will experience as a result of a fire.
Our skilled technicians take care of everything from securing your building to cleaning up soot and overseeing contents, cleaning, and building repairs. We also deodorize your premises.
If you are concerned about the fire damage to your business, SERVPRO of Bellmore / Wantagh is here to help. Call us today at (516) 809-9600.