SERVPRO Technicians Sanitize Bellmore Homes to IICRC Standards
12/4/2020 (Permalink)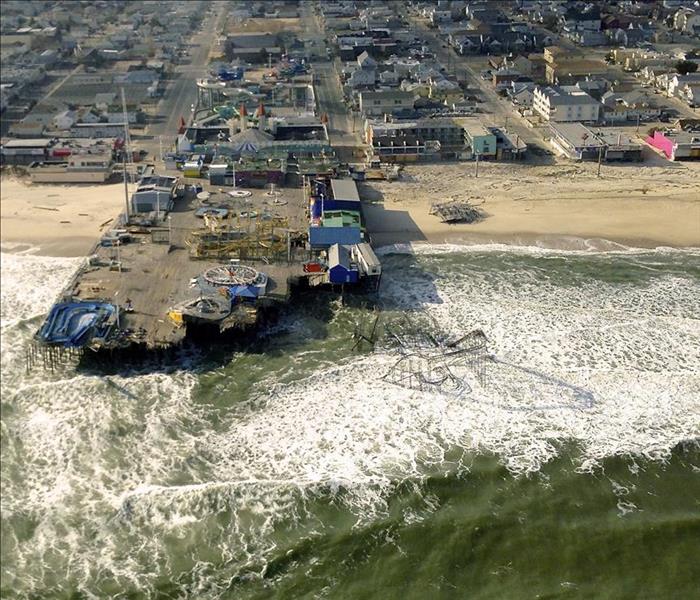 If you have storm damage to your home. Give the professionals at SERVPRO a call to get your home back to preloss condition in no time.
Call (516) 809-9600 for Fast-Acting Disaster Cleanup and Restoration in Bellmore
The Nassau County hamlet of Bellmore is a coastal getaway just east of Manhattan. It is home to approximately 20,000 residents as of 2010. This New York City suburb is situated along the southern coast of Long Island and, when grouped with North Bellmore and Merrick, is referred to as "The Bellmores."
Bellmore got its start as two small fishing and agricultural settlements: Little Neck and New Bridge. Much of the Bellmores were occupied by English settlers. Development increased dramatically in the nineteenth century after a railroad was built in the region. The railroad station had been named Bellmore, but the town was not officially incorporated under that name until a local post office was established.
Prominent people who have hailed from or lived in Bellmore include:
Former CIA director William Casey
Taking Back Sunday frontman Adam Lazzara
New York Rangers player Matt Gilroy
Fresh Prince of Bel-Air actress Tatyana Marisol Ali
Yemeni-American YouTube sensation Adam Mohsin Yahya Saleh
Bellmore is also home to an important Supreme Court ruling on Ginsberg v. New York. This case cemented the state's right to intervene in the interest of regulating adult materials to prevent distribution to minors.
The Indigenous Peoples of the Bellmores
Long Island, including Bellmore, was occupied by thirteen tribes at the dawn of seventeenth-century European colonization of the Americas. Many of these names may be recognizable as namesakes of modern-day New York locales. The indigenous peoples occupying this land originally were:
Canarsie, Nissequoge, and Merrick
Montauk, Manhasset, and Rockaway
Matinecock, Secatoag, and Massapequa
Corchaug, Setauket, Shinnecock, and Patchoag
In the relatively-recent Renneiu language, Long Island was referred to as Paumanok, or "The Land That Pays Tribute." The tribes in this region thrived primarily on hunting, fishing, and foraging. However, some crops, such as corn and beans, were also cultivated. Game and fish in the early days of Paumanok was plentiful and included:
Venison, raccoon, and bear
Turkey, quail, duck, partridge, and goose
Freshwater and saltwater fish, as well as crustaceans
The widely-accepted currency among many Long Island tribes was wampum, or shells strung on sinew or adhered to elm bark. European settlers fomented a peaceful dialogue with the indigenous peoples of Long Island and eventually purchased land from them. Many tribes also helped colonists learn to hunt, gather, farm, and fish in the New World.
However, not all relations were equally amicable. While Amerindian tribes peacefully traded with most English settlements, Dutch fur trading outposts often proved more combative. A smallpox epidemic in the 1650s wiped out almost two-thirds of the Long Island tribes. The expansion of European lands and farming had driven most of the remaining inhabitants of Paumanok toward the mainland by the mid-1700s.
Climate and Flooding in Bellmore
Bellmore sees more precipitation than the annual US average of 38 inches but slightly less snow than the national average. The totals clock in at 46 inches of rain and 23 inches of snow. Bellmore also averages 169 rainy days and 125 days of precipitation per year. Flooding and flash floods are relatively common in this part of Long Island due to Bellmore's proximity to the coast and the above-average rain levels.
Low-elevation neighborhoods like those south of Merrick Road are more vulnerable to the effects of potential flooding. One prominent example is the record-breaking 2012 Hurricane Sandy; a superstorm flooded south Bellmore and Merrick with three to six feet of water. 85-mile per hour gusts caused considerable property damage to home siding, decks, and fences, not to mention damage from felled trees.
Bellmore saw the effects of Hurricane Sandy before it even made landfall in New Jersey. The downpour quickly flooded storm drains and roads in the early morning hours on October 29, 2012. The flooding subsided somewhat until the evening that day before resurging and flooding residential areas in Bellmore-Merrick, including most of Merrick Road's business district. Superstorm Sandy also caused massive traffic jams and power outages that saturated and submerged cars and single-story buildings at the peak of the flooding, aggravated by an 11-foot storm surge.
How Do SERVPRO Technicians Restore the Contents of a Flood-Damaged Home in Bellmore?
SERVPRO provides rapid-response flood damage mitigation for Bellmore properties and their contents to minimize loss and maximize savings whenever it is safe and feasible. This restoration-focused approach minimizes replacement while ensuring that your home is cleaned to the Institute of Inspection Cleaning and Restoration Certification (IICRC) standards.
SERVPRO professionals can perform a multitude of tasks aimed at restoring salvageable belongings in your home after a flood, including:
Pack-outs allow technicians to carefully document and move your property offsite to a designated SERVPRO warehouse for cleaning and restoration. This process also helps homeowners bolster their proof of loss claim. Inventory can be taken on paper or electronically
Document and electronics restoration services are also feasible. Documents are frozen while deciding the best method for drying to prevent further water damage or staining, while electronics can be sanitized and serviced by licensed professionals
Wood furniture and antiques can be carefully sanitized and restored. If additional care outside of the scope of SERVPRO services is needed, SERVPRO can help homeowners get in touch with licensed professionals that can assist them
Some items are automatically considered losses in a flood situation, including mattresses, insulation made of cellulose or cotton, and carpeting. These items cannot safely be returned to a preloss state and are much more cost-effective to replace instead of repair.
SERVPRO of Bellmore / Wantagh provides Faster To Any Size Disaster service for homeowners 24 hours a day, seven days a week, including all holidays. Call (516) 809-9600 to begin the restoration process within hours of your initial contact.