Removing the Smell of Fire in a Wantagh Home
11/8/2020 (Permalink)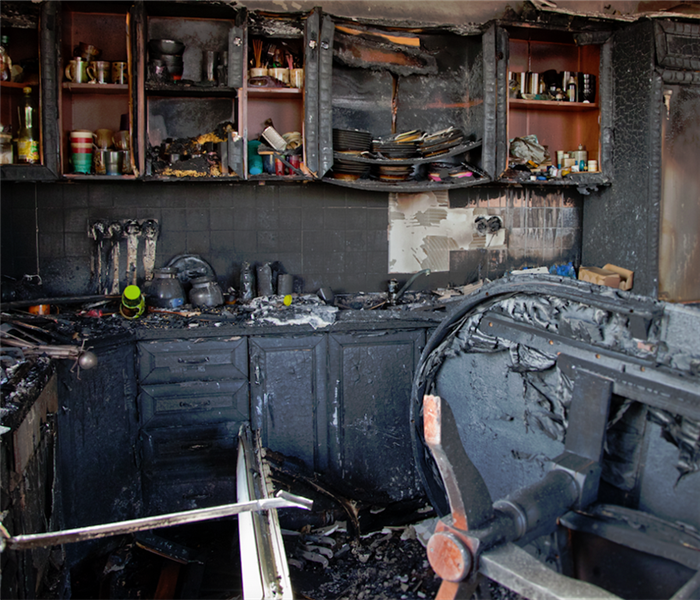 Regardless of the extent of the fire damage, team SERVPRO can help with remediation. Contact us right away.
SERVPRO is the Expert in Fire Odor Removal in Wantagh
Many who love living in bustling cities hesitate before moving to a suburb. However, Wantagh is far from the cookie-cutter vision of suburbs usually portrayed in the media. Instead, it is a mere train ride away from Manhattan and enjoys much of the rich cultural and entertainment benefits of living in the city. Known as "The Gateway to Jones Beach," Wantagh is a hamlet within the town of Hempstead in Long Island, and its proximity to the water makes its landscapes inspiring and peaceful.
It may come as no surprise that Wantagh is an affluent area, accompanied by a reputable school system and low crime rates. Many families choose to live in Wantagh, making its demographic composition mainly households with young children. This youth makes for a one-of-a-kind lively and close-knit community and places the school district as one of the best. Most homes are multi-story homes close to the water, which adds some challenging aspects to each house's general upkeep.
Jones Beach State Park is widely popular for New York residents and is known as one of the most popular destinations during the summer. Its boardwalk and concert venue makes it ideal for a weekend outing enjoying the outdoors. The Northwell Health at Jones Beach Theater often presents some of the largest names in music, and its 15,000-seat capacity is just ideal for music without the stress of larger venues. Smaller performance venues can also be found in Wantagh proper and surrounding towns, such as Bellmore.
To find out where Wantagh's name comes from, you would have to learn about the Merokee, which inhabited the area before the Europeans' arrival. "Wantagh" was the sachem, or chief, of the Merokee people, and his name continues to live today. Through a series of treaties and negotiations, both Dutch and English had rights to this part of the state until Long Island became a part of New York. Before becoming Wantagh, the town was known as Jerusalem, and Ridgewood and even George Washington visited the area in 1790. Some salient points in Wantagh's history include:
The Jerusalem Purchase of 1661 made by Captain John Seaman's which includes parts of today's Wantagh, Levittown, and Seaford
Indians, slaves, and freedmen inhabited the area in the colonial era
Germans came into the area along with the Long Island Railroad System in the late 1800s
Further growth was attained with the creation of state parkways in the early 20th century
Much like other cities in New York state, the legacy of the original settlers is still evident. For example, Cherrywood Shopping Century pays tribute to Captain John Seaman's estate, named Cherrywood. Wantagh's suburban nature was a relatively new development between 1950 and 1970 when housing developments flourished. Before then, it was mainly a farming community, and it wasn't until the early 1900s that fishing and tourism started playing a role in its economy.
To gain even greater insight into the area and its history, one can visit the Wantagh Museum, run by the Wantagh Preservation Society, which seeks to highlight the community's history. Visitors and residents can also visit the Twin Lake Preserve to learn more about the natural landscape and the importance of environmental preservation. You can also deepen your environmental understanding while visiting the dunes and appreciation of plants and animals within the Theodore Roosevelt Nature Center. When the weather is not suitable for outdoor adventures, you may visit the many restaurants in town, including Cleary's Bar & Café, a traditional Irish pub ideal for fun and entertainment.
The beach is not all Wantagh has to offer. Its dining offerings are plentiful and diverse, suitable for all palates. Neighboring Nassau County communities are a few minutes away and also provide numerous entertainment options to the hamlet's residents. From street fairs to seafood festivals to performances, a simple ride on the Long Island Railroad or a quick car ride can find you enjoying music and food like no other. If you are missing the hustle and bustle of Manhattan, you can easily hop on the train and arrive in the heart of NYC momentarily.
Even though Wantagh has the best suburban life, you don't need to forsake city life forever!
Those who love the outdoors may consider visiting the Wantagh Mill Pond, a 15-acre pond located along Merrick Road and run by Nassau County Recreation and Parks. Over a dozen fish species live in the Pond, making it a popular spot for fishing. It is also an excellent spot for birdwatchers and walkers who wish to be one with nature. Authorities are mindful of protecting the Pond's ecosystem, so anglers are encouraged to practice catch and release. There is also an active project to restore the Pond's shoreline after years of erosion.
Wantagh and Flooding
The sheer beauty of Wantagh requires the close attention of its residents. Rising sea levels cause flooding with increasing frequency, and Superstorm Sandy in 2012 put a spotlight on the structural deficiencies in our community. Even though many homes have undergone substantial construction in recent years to raise and repair them after Sandy, the risk of water damage and storm surges remains real. As Mother Nature continues to challenge our way of life, we need to be ready to restore our homes whenever disaster strikes.
As a matter of protection, Wantagh's property owners should keep SERVPRO in mind for any incidents requiring restoration. Our team is certified to handle both water and fire damage, which can occur at any time.
By making our team available around the clock, we can be faster to any disaster and conduct an efficient restoration process while mitigating your loss. Industry expertise and training make us the best choice in your time of need.
Make SERVPRO of Bellmore / Wantagh part of your emergency plan by calling us at (516) 809-9600 and letting us leave your home "Like it never even happened."