What Advanced Fire Damage Cleaning Practices and Tools Exist?
10/6/2020 (Permalink)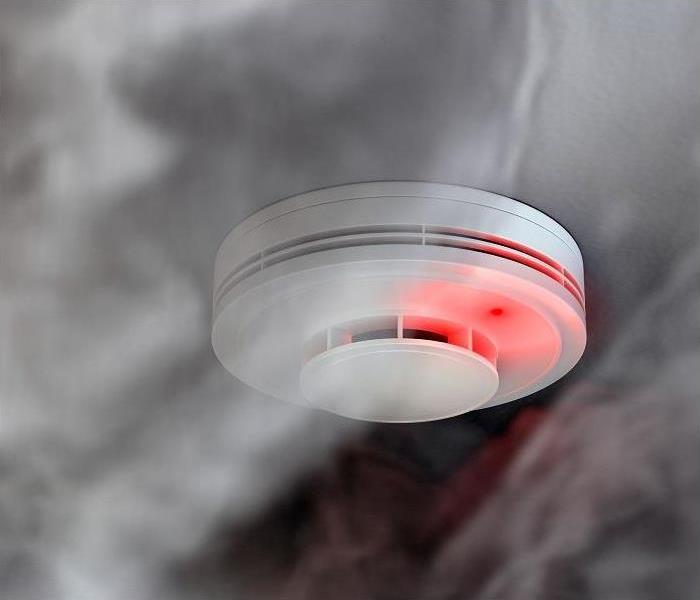 Fire damage is one of the most stressful events a homeowner can experience. When the unthinkable happens, call SERVPRO.
SERVPRO has Always Been a Leading Team in Innovative and Advanced Technologies to Recover and Restore Fire Damaged Levittown Homes
Because hundreds of potential sources and origin points for fire losses in Levittown homes, the restoration of these situations varies from one site to the next. Instead of universal cleaning approaches and recovery solutions, each plan to repair and return damaged properties to preloss condition is tailored to the individual property. Pre-job scoping collects the necessary data to efficiently ensure that we have the appropriate tools and equipment to manage the loss incident efficiently.
Devastating fire damage in Levittown homes often calls upon many practices and advanced technologies available to our SERVPRO team. We continue to be leading restoration professionals in the area, contingent upon our fast response and the efficient equipment used to restore fire-damaged properties to their original condition as soon as possible. Our most significant obstacles include removing soot and smoke residues, content cleaning, and air quality control in most situations.
How Can Soot Get Removed from Installed Materials?
There is often much more to the supposed cleaning of damaged and coated surfaces than you might initially believe. As experienced cleaning technicians for smoke residues and other similar threats, we have several practices that can help:
Agitation – Actions like dry vacuuming heaps of soot particles on surfaces can reduce these conditions' severity and ultimately make cleaning easier.
Solvents – Cleaning products can react with soil types differently. We sample clean small portions before beginning a more massive undertaking to ensure that our efforts provide the ideal results.
Abrasive Cleaning – Actions like soda blasting can remove surface soils often without damaging the underlying substrate. A combination of high-pressure water or air with a media like baking soda can thoroughly clean soiled surfaces of structural elements and contents.
Emulsification/Dissolving – With the use of potent cleaning products chosen by their composition, such as water-based solvents for oil-based soils, we can promote either emulsification or dissolving depending on the product/soiling relationship.
What Off-Site Cleaning Approaches Exist for Contents?
Content relocation through our pack-out process can free up space inside of the house for efficient mitigation. Our removal of these items to the nearby SERVPRO facility allows several specialty cleaning processes to begin. Some of the advanced restoration options off-site include:
ESPORTA Wash – Soft materials can get cleaned using this portable washing system. This gentle approach can reduce the irreparable harm abrasive cleaning methods can cause sensitive textiles.
Ultrasonic Tank – Submersion cleaning introduces millions of microscopic bubbles exploding on the surface of soiled contents submerged in the solution. This process cleans soot and other residues from hard materials.
Ozone Chamber – As typical of a need as deodorization is, having a large room to pack with multiple items from a damaged address to treat them simultaneously saves time and money.
What Tools Can Reduce Airborne Contaminants After a Fire?
Airborne contaminants are not uncommon in a house after a fire loss in Levittown. Between circulating soot and smoke particles to debris and ash, breathing in these particulates can threaten those exposed. Before extensive mitigation work, preemptive filtration and air scrubbing are often necessary to remove most of these airborne concerns through HEPA filters in many of our air treatment equipment. Some of the tools familiar to this approach include:
Hydroxyl Generators
Air Scrubbers
Negative Air Chambers
What Programs Help Us to Monitor What Work Must Occur?
Through our initial inspection and throughout the mitigation process, we have several software tools that can help us manage and monitor our progress. These options include:
DryBook
DryBook might not seem like software commonly used in fire restoration, but water damage effects are more common in these situations than homeowners expect. Extinguishment can leave parts of homes flooded and highly damaged by excessive water. This software ensures that we can monitor the effectiveness of drying throughout mitigation to implement the right restoration strategies.
Xactimate
Estimates and determining construction, repair, and other property needs after a fire loss can be challenging to keep streamlined. This software ensures that every party has the right information when they need it. The restoration project's progress does not slow down—using this industry-wide program that expedites claims and helps establish budget limits.
Knowing the great lengths to expect from our fire restoration professionals responding to your home is beneficial. You can see how experienced technicians like our SERVPRO of Bellmore / Wantagh team can utilize powerful tools and technologies to restore and recover fire-damaged properties more efficient and cost-effective. You can reach us anytime by calling (516) 809-9600.