We Have The State Of The Art Equipment To Restore Your Seaford Home After A Flood
8/13/2019 (Permalink)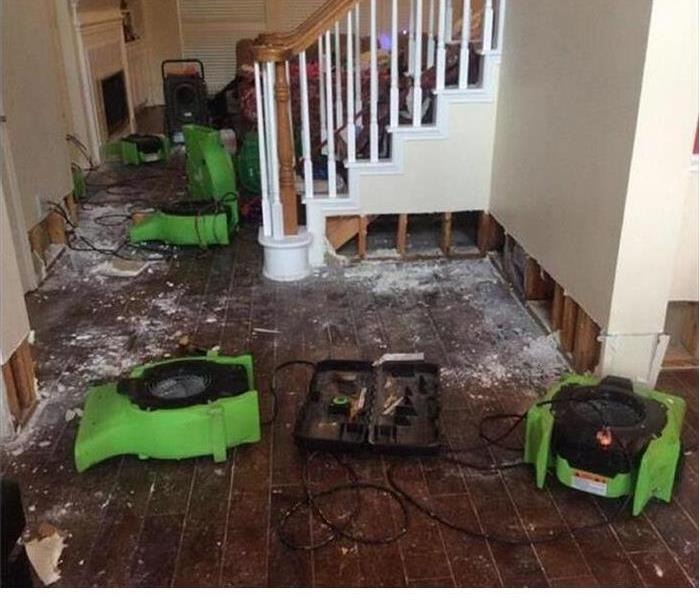 A "flood-cut" by our technicians minimized the demolition as our equipment worked hard to dry out the affected areas of the house.
What to Expect With Storm and Flood Damage Cleanup in Seaford
From the look of a home after it has a large amount of storm and flood damage, you might not feel that the house could return to its preloss condition. With the right equipment and restoration knowledge, it absolutely can.
When SERVPRO handles storm and flood damage to homes in Seaford, we arrive quickly after the initial call. A statistic from FEMA states a mere inch of floodwater in your home can result in an average of $27,000 in loss to the property. To further compound the issue, groundwater carries a rating as a category three biohazard. It ruins most porous things it comes into contact with and is unsafe for humans and pets. Our technicians test the water to determine the nature of any toxins or sewage and wear protective gear during mitigation to avoid any kind of contamination.
Common actions include:
Removal of debris brought in by flood damage.
Controlled demolition techniques to remove damaged sheetrock
It is common for delamination of tile to occur as most adhesives are unable to hold through prolonged exposure to excessive moisture.
Removal of all the damaged room items such as carpet, padding, trim, and baseboards as needed.
If the material that makes up the baseboards is hardwood, they may have the potential for cleaning and reuse on a case by case basis. As we remove items from the house, they are photographed and cataloged for use by the homeowner to expedite their loss claim. We also document and photograph possessions that have restoration potential. Our exclusive Contents Claim Inventory System (CCIS) report is designed to lessen the stress on property owners during the insurance claim process.
SERVPRO has several different types of moisture detection equipment, and one of the most beneficial for scoping damaged sheetrock is our thermal imaging so we can easily find waterlines and leave undamaged building materials intact. Water extraction and drying happen as fast as possible to minimize damage. Afterward, our technicians clean and disinfect all water-affected surfaces remaining in the property.
Floodwater has its own distinctive scent that often needs help to go away. If there are any residual water odors, we address those from among many different applications ranging from gel pellets for light scents to ultra-low-volume fogging to neutralize more intense odors.
SERVPRO of Bellmore / Wantagh at (516) 809-9600 is ready to assist residents with cleanup and restoration services from storm and flood damage and make it, "Like it never even happened."
See more about Seaford.