Let Our Certified Technicians Restore You Seaford Home After Flood Damage
4/22/2019 (Permalink)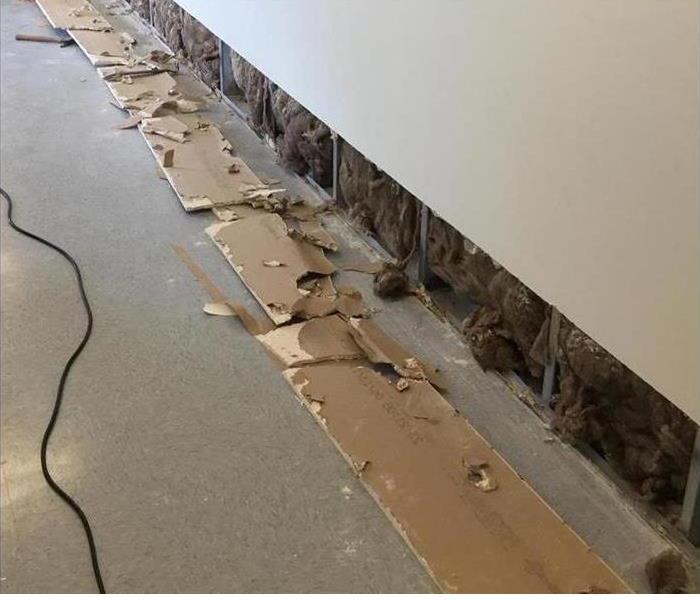 Stormwater can quickly wick up into sheetrock rendering it non-salvageable. Our technicians can do a "flood cut" that limits the demolition.
Black Water Emergencies caused by Flood Damage in Seaford
Heavy rainfall during the year can result in nearby road overflow. In some cases, these flood waters can enter your property causing significant damages. Older sewer systems can often become backed up by the increased level of rainfall. We provide emergency services to residents who need assistance with flooding or standing water in the home and can be contacted twenty-four hours a day by phone.
The likelihood of water containing harmful pathogens like animal carcasses or raw sewage is high. It is therefore vital that you seek professional assistance for flood damage in Seaford. Our technicians have access to the correct PPE for dealing with these type of damages including Hazmat suits. SERVPRO employees are also trained to recognize different levels of water contamination and respond appropriately.
The scale of water contamination ranges from clean water emergencies to black water emergencies- where water is heavily contaminated and poses a risk to health. In a black water scenario, the affected area may need to be quarantined. If damages are widespread, it may be necessary to relocate you temporarily while work is undertaken.
The types of services that SERVPRO use to remedy a black water emergency may seem extreme. Unfortunately, given the potential health risks, it is entirely necessary to exercise caution. Drywall must be removed and demolished. Carpets and subfloor also must be disposed of in line with federal and state guidelines. We have the necessary licenses and training required to dispose of Biohazardous substances correctly.
Once flood water has been removed, SERVPRO can replace carpets, subfloor pads as well as any sections of drywall that were treated. Using biocides in combination with disinfectant bleaches we can make your home safe from contamination. However, these chemical agents create a thick odor. Using thermal foggers, we can thoroughly deodorize your home removing both the smell of contaminated flood water and disinfectant cleaning products.
Exposure to black water is a severe health risk, contact SERVPRO of Bellmore / Wantagh at (516) 809-9600 for professional assistance.
Click here for more information about how you can get involved in Clean Up Week.