At Last, the Secret to Levittown Fire Damage Remediation is Revealed!
2/8/2019 (Permalink)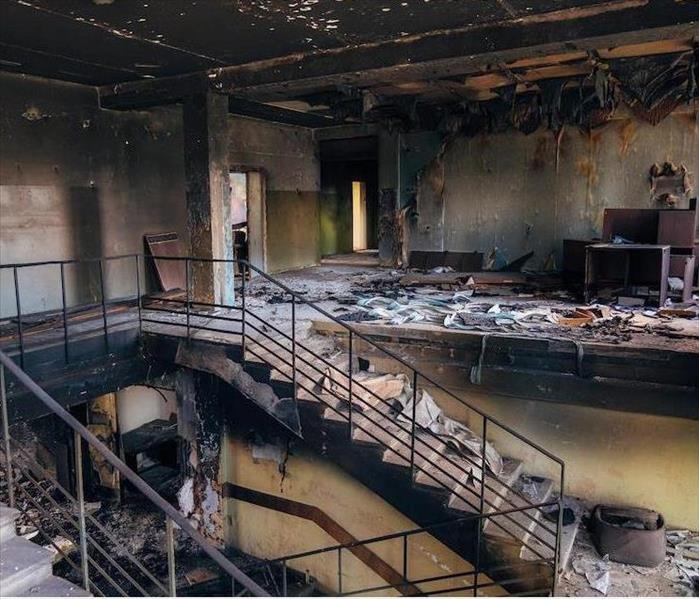 Regardless of the extent of the fire damage, team SERVPRO can make it "Like it never even happened." Call us right away for best results.
Fire Damage Technicians in Levittown Talk About How Fire Ruins Structural Components
It could happen when you least expect it that suddenly you see or smell smoke and notice that something inside your Levittown home has caught on fire. The first thing you should do after you know everyone in the building is safe is to extinguish the fire with water or an extinguisher as quickly as possible to reduce the overall amount of fire damage. Once flames ignite, the heat can start consuming many of your contents and building materials as fuel. Many of these items combust or turn from a solid to a gas when heat is applied, but some substances only combust partially and enter the air in the form of smoke. This smoke can then cause many different fire damage related problems itself.
Even if the burnt region of your house is small, it is still wise to call in a professional restoration company such as SERVPRO. Our team has experience in completing fire damage projects in Levittown that are both big and small. During most scenarios, our technicians are tasked in dealing with issues that are caused by both heat and smoke. Once something inside a building ignites, the flames rise with the heat and can then start spreading to other areas away from the initial source.
If the blaze burns hot enough it can use just about any type of material in your home as fuel. These fuels can burn at different temperatures and thus put off various types of smokes and soot residues. Fires that burn slowly at lower temperatures and get starved for oxygen can produce wet smoke that leaves behind thick residues that can be difficult to remove. Fires that burn quickly at higher temperatures and have plenty of oxygen often produce dry smoke that is more easily cleaned from surfaces. During most projects, our SERVPRO technicians know that there are likely both wet and dry smoke present after a burn.
Therefore, in most cases, your structural contents can get damaged by either soot residues caused by smoke or the heat and flames coming from the fire itself. If you ever have a small burn inside your home, call SERVPRO of Bellmore / Wantagh at (516) 809-9600 any day of the week.
Click here for more about Levittown.