What Can You Do About Commercial Water Damage in Wantagh Right Now
4/10/2022 (Permalink)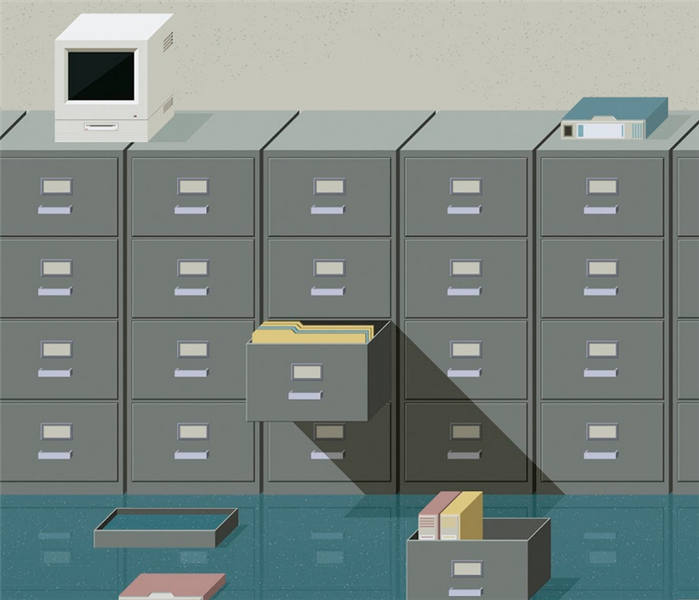 Dealing with office water damage can seem overwhelming. Our SERVPRO certified professionals arrive on the scene with water removal tools to help.
Strategies Water Removal Professionals Use in Your Wantagh Business
The last thing you need when a water loss affects your Wantagh business is uncertainty among your clients or customers about your ability to weather the disaster. Engaging the assistance of a reliable water mitigation company makes all the difference, easing the concerns of not only you as an owner but also your employees and consumers of your products and services. Our team is uniquely positioned to meet your water disaster recovery needs.
Water removal within your Wantagh business must be rapid and thorough. Water can migrate from the spaces it first invades to many other locations in your commercial building. Likewise, your business can suffer initially from water transfer flowing from adjoining businesses struggling with their own water emergencies.
SERVPRO managers and technicians use sensitive devices like thermal imagers and moisture meters to delineate the extent of the intrusion. We use submersible pumps and powerful wanded water extractors to remove the bulk of the water. If we determine that the water is contaminated, grey or black water that contains substances hazardous to health or the integrity of building materials, we follow applicable rules and regulations concerning containment and appropriate disposal of the tainted moisture.
We also ensure all the water exits your commercial space. The data provided by the thermal imaging and moisture meters guides controlled demolitions such as flood cuts to gain access to otherwise hidden water pockets. SERVPRO uses extensions to wanded extractors and holes drilled in mortar joints to release water which we collect and discard. Any lingering water can encourage mold growth, so it is imperative that we find and implement the removal of all of it.
Finally, we set up structural drying configurations, using air movers and heat to move water absorbed into building materials into the air as vapor. Industrial capacity dehumidifiers condense or absorb the water vapor for removal. SERVPRO inspects for fungal infestation and uses EPA registered disinfectants to inhibit hazardous growth. We can scale our response to a commercial loss to handle water removal needs of any magnitude, including multi-building campuses.
SERVPRO of Bellmore / Wantagh is ready to restore commercial properties damaged by water losses. Call us at (516) 809-9600 to schedule a consultation.