How can Soda Blasting Help with Mold Remediation in Your Riding Stables?
10/26/2020 (Permalink)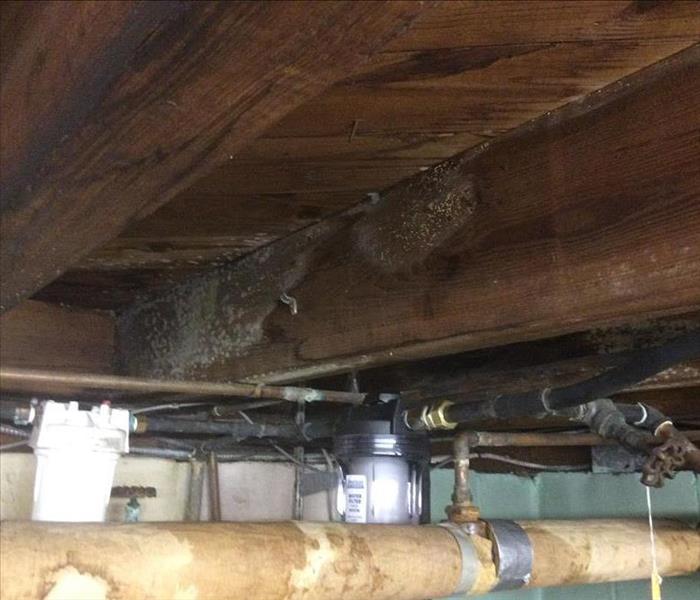 SERVPRO can utilize soda or dry ice blasting to remove mold infestations from raw lumber in commercial and residential properties in Wantagh
Equestrian Centers in Wantagh need Effective Mold Remediation
Wantagh is beautifully situated, being within an hour of NYC, yet still small enough to feel cozy. The area supports several riding stables and equestrian centers – and the owners know that customers demand a professional and sanitary environment.
If you notice fungus in your stables, call a Wantagh Mold Remediation company such as SERVPRO immediately. If mold is left untreated, it can quickly spread – some spores can propagate in as little as 48 hours. Mold can cause health effects, and it can also cause damage to wood.
Why does mold grow in stables?
Mold is a naturally occurring substance that needs four things to grow:
A food source
Moisture
Darkness
Oxygen
Unfortunately, stables provide plenty of dark corners, and they can quickly become damp. They also offer ample food sources for fungus, including wood, hay or straw, and natural fabrics such as cotton and leather.
Soda blasting uses high-pressure hoses to blast surfaces with baking soda particles (yes, this is the same thing you use in your kitchen!) Soda blasting is particularly well suited to large areas of wood or brickwork, and it has several advantages:
It is faster and easier when it comes to cleaning large areas
It is non-toxic, which is especially important in a place that houses animals
It is gentle enough to rub away mold without damaging wooden surfaces
It has deodorizing properties which help to get rid of moldy smells
It is easy to wipe away the residue afterward and leave your stables "Like it never even happened."
Soda blasting is also relatively cost-effective, which is good news for you as a business owner.
What happens after soda blasting?
Our technicians know that mold growth happens because the conditions are ripe. If we do not alter the conditions, mold can quickly regrow, especially in an area with high footfall and plenty of access to the open air.
We measure moisture and humidity in your stables and use fans and dehumidifiers to reduce levels. We can also advise you on steps to take to prevent it from coming back.
For help with mold in your business, call SERVPRO of Bellmore / Wantagh at (516) 809-9600.