How Can Water Damage Restoration Services Salvage a Wet Subfloor?
9/12/2020 (Permalink)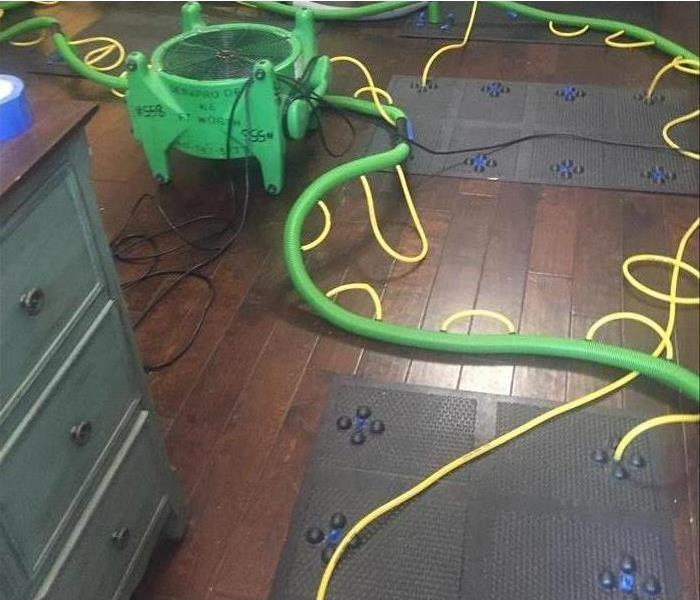 SERVPRO offers advanced drying equipment like these mats to salvage water damaged hardwood flooring in Wantagh, delighting our customers.
SERVPRO technicians can tell you if there is moisture within your Wantagh subfloor through the use of their equipment
It can be a little jarring to dig into a subfloor that has signs of water damage but not for sure that there is actually a problem in there. That is why SERVPRO techs rely on their diverse selection of moisture detection devices that allow them to "see" into the subfloor of Wantagh homes and determine if removal of the flooring above is necessary for extraction and drying purposes.
What Are Signs My Subfloor Needs Water Mitigation?
The subfloor in each room of your Wantagh home has a low-key way of announcing there is a problem with moisture. Be alert for any of the following signs you need help with a water problem:
Loosened tiles
Cupping or flaking hardwood floorboards
Damp, musty odors emanating from the floor
Visible water stains on the carpet
In cases of hardwood flooring, the boards get inspected by the SERVPRO techs for potential reuse after drying and cleaning. In many cases, they can save the homeowners the cost of replacement through their drying applications that pull all the embedded moisture out of the wood.
Drying a subfloor is a step-by-step process. The techs use portable pumps to pull any residual moisture and then move on to the drying phase. The use of professional air movers works to direct warm, dry air into the subfloor. Some situations have the best outcome through the use of specialized drying equipment such as drying mats that lay flat on the subfloor and suction embedded or hidden water from the wood. Dehumidification equipment stands at the ready to grab moisture as it rises and ports it off-site. In this way, a subfloor that has water damage can get dried in place.
SERVPRO of Bellmore / Wantagh at (516) 809-9600 supports the local community by provided water mitigation for all types of damage. The trained, certified techs are available 24/7 to extract, dry, and restore properties.