Why Is Moisture Testing Such An Important Part of Mold Removal in Wantagh?
9/7/2020 (Permalink)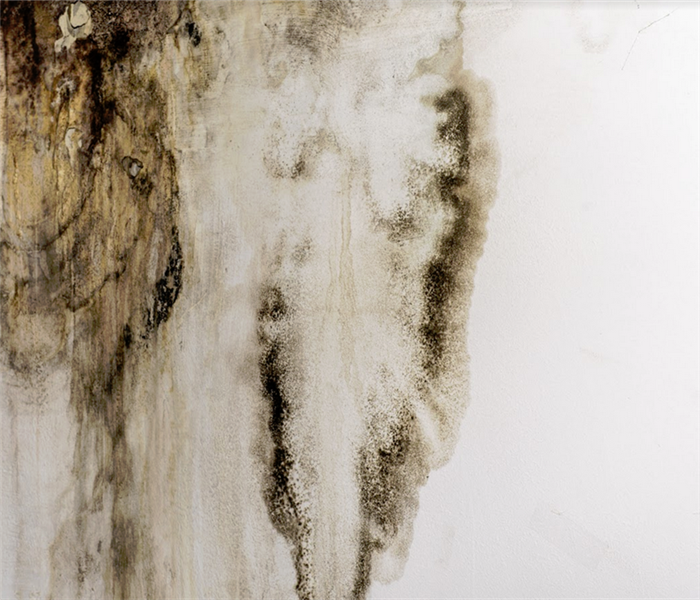 Don't panic when facing mold damage in your home. Our experienced technicians can be on the scene within hours to mitigate the situation.
Wantagh Homeowners Want The Mold To Go Away and Stay Away
Residents of Wantagh want to take good care of their homes. The key to home maintenance is to handle issues as soon as they arise. If you see a loose tile, call someone to fix it. If you notice a tree in your yard leaning too close to your house, call a tree surgeon to deal with the overhanging branches. If your gutter is leaking, get it mended.
Should you notice the need for mold removal in your Wantagh home, call SERVPRO as soon as possible. We are Faster To Any Size Disaster, and we are on call 24 hours a day for all your mold needs.
The quicker you call us, the faster we can remediate your mold situation and prevent further spore spread.
Do I need mold removal?
If you see signs of mold in Wantagh, you need a mold removal service. Signs of spore growth in your home include:
Black, dark green, or pinkish spores growing on surfaces or soft furnishings
Damp patches on wallpaper, walls, or ceilings
A moldy odor, which often smells musty
It is much harder to remediate mold if you do not have the necessary training. That is why SERVPRO of Bellmore / Wantagh recommends calling us immediately instead of trying to handle the growth by yourself. Our teams have the know-how and training to handle any size of a mold outbreak.
Why do I have mold?
Mold is a naturally occurring fungus that is found throughout nature. Mold grows by consuming a food source such as paper, fabric, drywall, cotton, or even documents or painting canvas. If there is an available food source, oxygen, and moisture, the spores have everything they need to grow and spread.
There are so many things in a home that mold can munch on. Add moisture, and you will soon see fungi appearing.
Mold can quickly grow in damp areas such as the kitchen, bathroom, or laundry room. It can also grow in uninhabited areas such as the basement or attic. A broken door or window seal, cracked window frames, and ill-fitting doors allow moisture into your home and mold the water it needs.
What is moisture testing, and why does it matter?
Moisture testing shows how much moisture is in a specific area of your home. This is an essential part of SERVPRO's mold removal process.
If we remove the mold but do not test for moisture, there is no way to know if the conditions are ripe for mold to come back. Moisture testing lets us see potential problem spots and deal with them before they become home to a new mold colony. Because damp can hide behind walls and in unseen corners, testing helps us find hidden mold growth.
We also use moisture testing at the end of the mold remediation process, to double-check that we have dried your home to the correct standards.
How does SERVPRO test for moisture?
Our technicians use a range of testing equipment:

We use moisture sensors if we suspect damp in a carpeted area – these penetrate carpet or padding and let us know if there is moisture present
We use thermal imaging cameras to check for signs of moisture on walls – these give us an infrared image of the temperature across the surface which can provide clues to moisture underneath
We use penetrating moisture meters to check for moisture inside surfaces such as wood or gypsum
We use non-penetrating moisture meters on materials we do not wish to cause surface damage on, such as drywall
We use thermo-hygrometers to measure the relative temperature and humidity in the affected area
What happens after moisture testing?
After moisture testing, our teams set up containment around the affected area, to discourage mold spores from spreading further. Then our technicians set to work remediating mold. We choose the best tools for the job, including HEPA vacuums, air scrubbers, negative air machines, dry ice or baking soda blasting, or good old-fashioned scrubbing.
When we have cleaned all visible mold, we use fans and dehumidifiers to dry out your home. We continue to monitor moisture levels throughout the drying part of the process. We also deodorize your house when we are finished with remediation to eliminate moldy odors.
We understand that homeowners want the mold to get gone and stay gone. Unfortunately, it is impossible to remove all mold from a structure because mold is naturally-occurring and can re-enter your home at any time. However, by drying your home and moisture testing to check levels of moisture and humidity, we can make your home much less welcoming to mold.
If you need help with mold removal, call SERVPRO of Bellmore / Wantagh at (516) 809-9600.