What's the Best Way to Get Standing Water Out of My Wantagh Basement?
7/17/2020 (Permalink)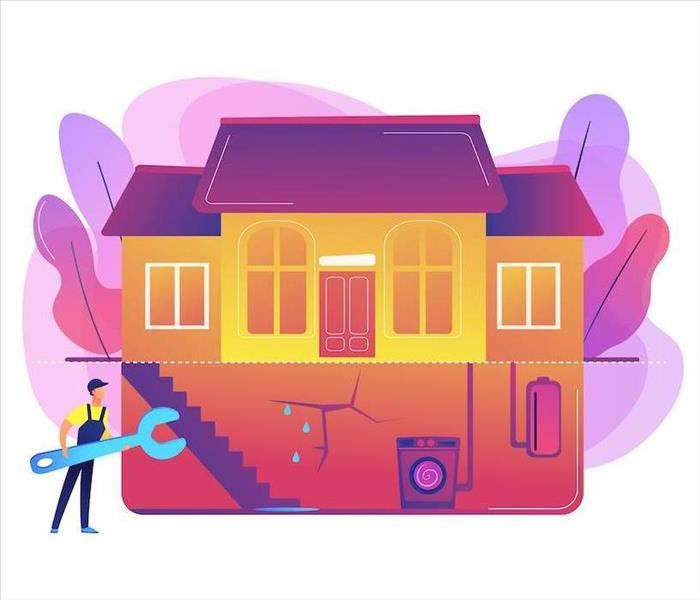 If you don't act quickly, water damage in your home can escalate. Contact our experienced SERVPRO team right away.
SERVPRO Uses a Variety of Water Removal Equipment
Standing water in your Wantagh basement can cause damaged floors, walls, electrical and mechanical components, and musty smells. It is paramount to suck out the water, access underlying problems, and begin the drying out process in your basement. SERVPRO provides professional and friendly residential water removal services.
How Do I Shut the Water Off From a Broken Pipe?
Find the Water Mains
The first step for a broken water line in your home is to shut the water mains off. Water mains are typically located on the concrete wall in your basement nearby boilers, hot water tanks, and other components or on the exterior side of a structure close to the ground.
Use the following steps below to shut the water supply off from a broken pipe safely:
For starters, do not step into standing water where electrical components are present without wearing protective equipment such as gum rubber boots.
Next, shut the main breaker off from your electrical panel. Which will prevent the risk of being electrocuted while making your way to the water supply valve.
Lastly, find the water mains and shut it off. Most water mains typically have a large wheel-shaped valve, turning it clockwise until it stops will shut the main water supply off coming into your home.
What's the Best Method for Water Removal?
Depending on the water depth, a variety of water extraction tools can be used. For example, if you have water in just certain areas, you can use a wet/dry vac. For standing water 2-inches or more, a submersible pump can get the job done. However, if your home is severely flooded, a disaster mitigation specialist such as SERVPRO is generally recommended.
Anytime you deal standing water in your home, it can create havoc and disrupt your way of life. For fast and reliable water removal services, contact SERVPRO of Bellmore/Wantagh at (516) 809-9600 today and get your home restored, "Like it never even happened."
More about Wantagh.