Why SERVPRO is Your First Choice for Water Removal in Seaford
10/25/2019 (Permalink)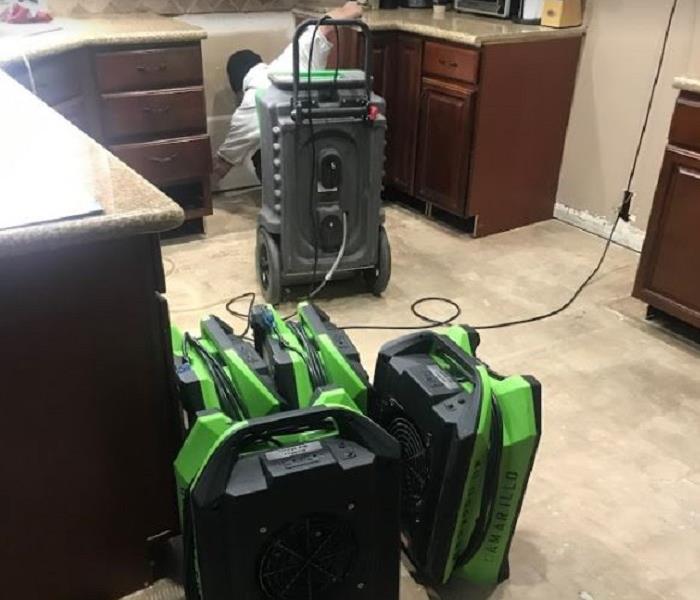 We completely restored this water damaged kitchen. Call us when your property experiences a water loss event.
Coordination of Complex Project Agendas Is Why SERVPRO Delivers Premium Water Damage Outcomes in Seaford
When a water loss occurs after a plumbing leak or appliance malfunction in your Seaford home, the window of opportunity to complete tasks is tight. Conventional building materials are vulnerable to water destruction, crumbling, swelling, and deteriorating within hours or days of the crisis. Mold or mildew damage is also a significant risk, especially if moisture remains available for spores to absorb more than 24 to 48 hours.
We're Faster To Any Size Disaster, why we report consistent success.
Planning Supports Positive Outcomes
As speed in responding to water damage in Seaford is critical to industry best practices, we make sure we arrive with the crew and equipment necessary. Our fully-stocked service vehicles arrive as our experienced managers assess your premises. Our team is poised to begin water removal efforts as soon as a project plan takes shape. We use submersible pumps when the water rises higher than two inches, following up with wanded extractors for surfaces. The ease with which our Institute of Inspection, Cleaning and Restoration Certification (IICRC)-trained crews move from task to task shows why we can accomplish each project step and activity within prescribed timelines.
Alternative Power Sources Avoid Delays
A significant water loss can require electricity to be disconnected temporarily for safety reasons. Our water removal equipment has the flexibility of using gas or onboard portable generators. These options permit our crews to move forward with the work. The portable generators have the benefit of removing the hazard along with the water. The team assigned to mitigate and remediate your emergency can make adaptations that ensure rapid removal under even extreme circumstances, why SERVPRO completes your job to specifications.
Skilled Moisture Monitoring Traces Water Migration
Determining the extent of the water damage in your home includes tracking any seepage or drainage from the original leak. Porous materials and joints and cracks permit quantities of water to move into building cavities between walls and below floors. Our employees master the operation of moisture probes and thermal imaging devices that guide us to trapped water and saturated structural components. Controlled demolition strategies like weep holes and flood cuts allow access to residual water. Drying efforts are more effective when the wet spaces are open, another reason why SERVPRO swiftly wraps up each recovery phase "Like it never even happened."
Careful adherence to industry best practices is why SERVPRO of Bellmore / Wantagh is a leader in the water damage mitigation and remediation business. Call us at (516) 809-9600 for a customized evaluation of your water loss and a practical project plan.
More about Seaford.