Become Familiar With Signs of Commercial Water Damage in Seaford
10/11/2018 (Permalink)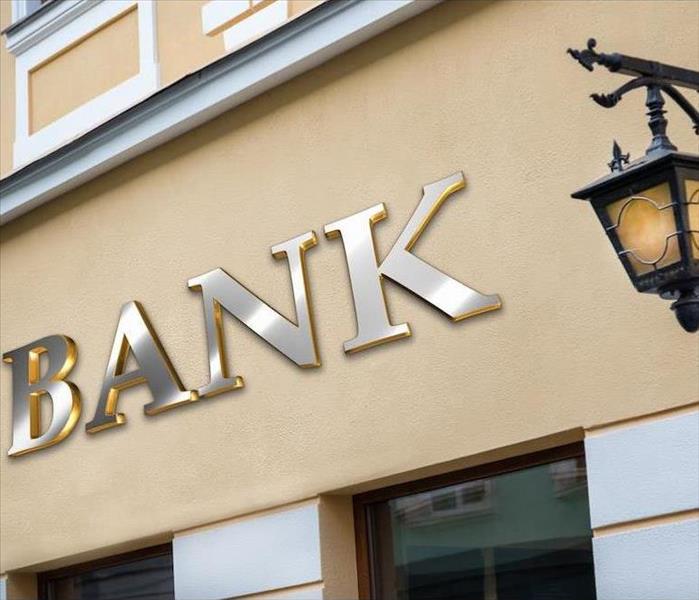 Water damage in your bank can prevent customers from cashing their checks at the teller window. Contact SERVPRO right away for remediation services.
Overcoming Water Damage in Your Seaford Bank
The bank that you run in Seaford has been serving the community for decades, and some of its original construction materials are still looking as good as the day they got installed. Part of the reason for this is the extensive upkeep and custodial efforts of your staff to maintain the property and its cleanliness. However, some instances require more experience and specialized equipment than what is available to this staff, such as a water loss incident, and you must reach out to professional restoration technicians like ours.

While you might not consider water damage in your Seaford bank to be an extensive threat, there is much about water that you might not realize. For instance, from the source of the damages that your building sustains, the water can spread quickly through open spaces, materials, and shared walls to impact a broad region of your business in a brief period. The threat here goes beyond inconveniencing your customers.

One of the things that our SERVPRO professionals pride themselves on is our approach to restore before rebuilding. This approach ensures that whenever possible, we work to salvage and recover damaged construction materials throughout the affected area instead of demolition and reconstruction. With your building being a staple of the community with older components, preserving the building should remain a priority of yours.

With our extensive training and industry-leading equipment, our SERVPRO technicians can handle all facets of water restoration to allow the process to be as seamless and efficient as possible. From the moment that we arrive for the initial assessment, a plan begins to preserve the building. Clean up, and restoration efforts ensure that the moisture gets entirely removed from the affected areas and that your business is safe to continue conducting business with your customers moving forward.

There are many situations that your custodial team can remedy on their own without professional intervention, but incidents like water loss require immediate attention from trained technicians with the right equipment and expertise for the job. Our SERVPRO of Bellmore / Wantagh restoration specialists are always here to help whenever disaster might strike by calling (516) 809-9600.

Click here for more information on the city of Seaford.