High Humidity and Mold Damage in Seaford
8/19/2018 (Permalink)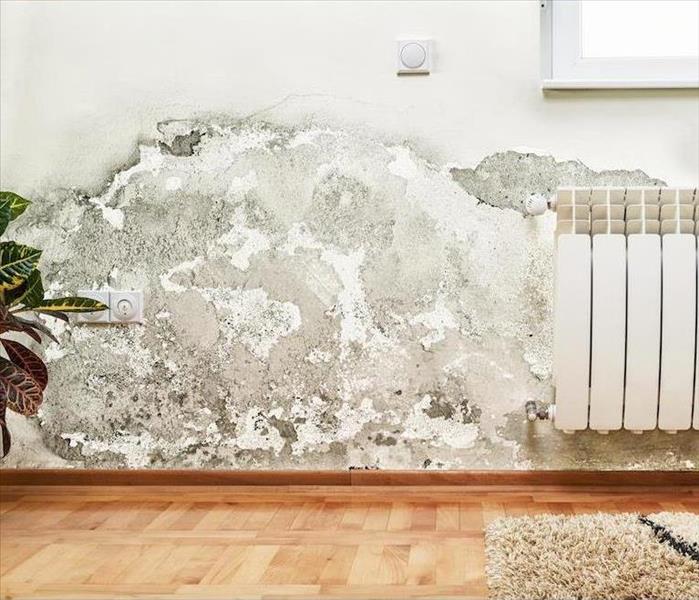 Finding mold in one or more parts of your home can be quite disconcerting. Call SERVPRO for an assessment and remediation plan.
SERVPRO Follows Both EPA and IICRC Protocols When Remediating Mold Infestations
Warm, sticky summers and cool, wet winters make Seaford and the rest of Nassau County an amenable environment for fungal growth. If the indoor temperature and relative humidity move out of balance, surfaces can provide enough moisture for mold spores to adhere and begin growing. We understand the life cycle of molds that are commonly found at significant levels and can help abate unwanted acceleration of overgrowth.

Mold damage in Seaford occurs because of the presence of mold spores, moisture, and an organic surface for the microbes to grow on and flourish. Humidity levels of more than 60 percent provide enough dampness for mold to begin its destructive trajectory. Many individuals are concerned about the health effects of mold, but they are rare and best discussed with your doctor. More troubling is the damage mold can do to a broad array of typical building materials, threatening things like wood framing, wallboard, insulation, and floors and subfloors with disintegration, weakening the strength and structural integrity of your home. Our focus is removing active mold colonies that consume materials in your home before the components give way.

SERVPRO adheres to the Environmental Protection Agency (EPA) protocols when performing mold remediation. We locate and contain the mold, usually employing a combination of physical barriers and technological advances that prevent mold "drift" by using negative air pressure to form a vacuum sealing the containment area. Our team then dons personal protective gear to keep our employees safe during removal while also limiting the tracking of moldy debris out of the contaminated area.

Once contained, the affected area is cleared of mold growth by scraping, scrubbing with wire brushes, and using innovative techniques like soda blasting. When done correctly by our IICRC trained employees, we can save even porous materials previously thought ruined and requiring disposal. The contained space then receives disinfection with an EPA registered antimicrobial to inhibit the rapid regrowth of the fungi.

All SERVPRO hard work is in vain if the humidity issues are left unresolved. Keeping your home at a range of 30 to 50 percent humidity limits the risk of mold growth. During the summer, running an appropriately sized and maintained AC system helps, Dehumidifiers assist as well, while periodically steamy spaces like kitchens, bathrooms, and laundry areas need exhaust fans installed and used consistently to reduce moisture.

SERVPRO of Bellmore / Wantagh has the technicians and equipment ready to remediate your mold damage scenario. Call us at (516) 809-9600 for an assessment and plan to manage the mold and the moisture.

Click here for more information on the city of Seaford.